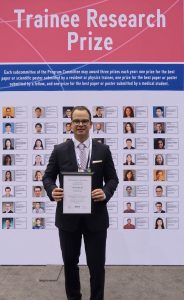 At the 104th Annual Meeting of the Radiological Society of North America (RSNA), which took place in Chicago from 25 to 30 November, Dr. Moritz H. Albrecht, Dr. Simon S. Martin, Dr. Christian Booz and Dr. Lukas Lenga gave lectures about dual-energy CT applications in oncologic, cardiac and musculoskeletal imaging.
Dr. Moritz H. Albrecht presented a study investigating the potential of dual-energy computed tomography (DECT)-derived iodine and fat quantification for the differentiation of varying entities in 94 patients with histopathologically confirmed diagnosis of malignant lymphoma, lymph node metastasis, or inflammatory abdominal lymph node enlargement. Results of this study lead to the conclusion that the differentiation of enlarged lymph nodes due to inflammation, primary and secondary malignancy is feasible using DECT iodine density and fat fraction analysis.
Dr. Simon S. Martin gave a lecture about the predictive Value of Cardiac CT, Cardiac MR, and Transthoracic Echocardiography for Cardioembolic Stroke Recurrence. This study investigated sensitivity, specificity, and predictive values of cardiac CT angiography (cCTA), cardiac MR (CMR), and transthoracic echocardiography (TTE) for stroke recurrence in 163 patients with suspected cardioembolic stroke. Interestingly, the results of this study indicated comparably high specificity and NPV of cCTA, CMR, and TTE for the exclusion of cardioembolic stroke recurrence.
Dr. Christian Booz won the RSNA Trainee Research Prize 2018. This internationally recognized research award is presented annually by the Congress Committee of the RSNA to 48 radiology researchers (16 residents, 16 fellows, 16 medical students) from around the world for their scientific work. Dr. Christian Booz evaluated a newly developed dual-energy CT-based color-coded reconstruction algorithm for visualization of posttraumatic bone marrow edema in the knee joint in 41 patients with acute knee trauma in his award-winning study "Color-Coded Virtual Non-Calcium Dual-Energy CT for the Detection of Bone Marrow Edema in Patients with Acute Knee Trauma: A Multireader Diagnostic Performance Study." In this study, an high diagnostic accuracy of this method (sensitivity 96%, specificity 97%) compared to MRI as well as a high diagnostic certainty (4.37 / 5.00) of the radiologists involved in the study regarding the detection of bone marrow edema could be demonstrated.
Dr. Lukas Lenga compared the diagnostic performance of a phantomless dual-energy computed tomography (DECT) postprocessing algorithm for volumetric bone mineral density assessment of the lumbar spine with standard Hounsfield unit (HU) measurements. 53 patients who had undergone third-generation dual-source DECT and dual x-ray absorptiometry (DXA) examinations of the lumbar spine within 7 days between March and December 2017 were included. Both approaches were compared regarding the diagnostic accuracy using the DXA T-score according to the World Health Organization as standard of reference for detecting osteoporosis. The results showed show that the phantomless DECT postprocessing algorithm is significantly superior compared to HU measurements regarding the diagnostic accuracy for detecting osteoporosis.