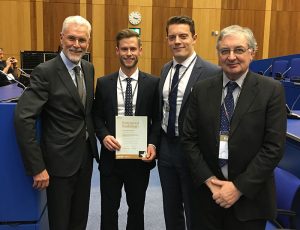 Dr. Moritz H. Albrecht (first author) and Dr. Julian L. Wichmann (senior author) were award European Radiology's "Most Cited Paper Award 2015" award during this year's European Congress of Radiology (ECR) 2018 in Vienna, Austria.
Their publication entitled "Assessment of an Advanced Monoenergetic Reconstruction Technique in Dual-Energy Computed Tomography of Head and Neck Cancer" was the third most referenced paper in European Radiology in the years 2016 and 2017 out of 430 published manuscripts. European Radiology is the largest European journal in the field of radiology and serves as the official journal of the European Society of Radiology (ESR).
This study was one of the first to demonstrate the improved diagnosis of head and neck tumors using a novel virtual monoenergetic imaging reconstruction algorithm for dual-energy computed tomography. The application of this technique subsequently developed into clinical routine at the Goethe University Hospital and a focus research of DETI.