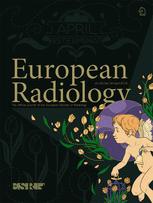 Dr. Julian L. Wichmann has been appointed by Editor-in-Chief Yves Menu, M.D. to serve on the Editorial Board of European Radiology.
European Radiology was founded as the European forum of radiology. It continuously updates scientific knowledge in radiology by publication of strong original articles and state-of-the-art reviews written by leading radiologists. It has a high impact factor compared with many other radiological journals.
Through its link to the European Society of Radiology (ESR), European Radiology improves the communication with other journals worldwide. A thorough and competent peer review procedure serves the authors' need for critical feedback. A well balanced combination of review articles, original papers, short communications from European radiological congresses and information on society matters makes ER an indispensable source for current information in this field.
European Radiology is subscribed to by all members of the ESR and thus reaches a regular audience of several thousand readers worldwide. Full electronic access is freely available to members of the ESR. Full printed copies are distributed to members for a modest additional sum.
The journal belongs to one of the top European journals in the field of radiology with a 2016 impact factor of 3.967.