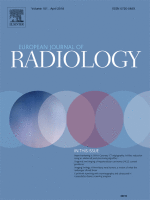 Dr. Julian L. Wichmann has been appointed by Editor-in-Chief James V. Byrne, M.D. to serve on the Editorial Board of European Journal of Radiology as the new section editor for cardiac imaging.
European Journal of Radiology is an international journal which aims to communicate to its readers, state-of-the-art information on imaging developments in the form of high quality original research articles and timely reviews on current developments in the field.
Its audience includes clinicians at all levels of training including radiology trainees, newly qualified imaging specialists and the experienced radiologist. Its aim is to inform efficient, appropriate and evidence-based imaging practice to the benefit of patients worldwide.
The journal belongs to one of the top European journals in the field of radiology with a 2016 impact factor of 2.462.